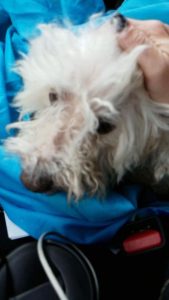 We are sad to report that Joey, the little fenced-chained senior Bichon dog (10-12 years old) we took on Thursday, was suffering way too much. We had to help him to peace.
We did bloodwork, sedated him for exams, gave him pain meds, a warm bed, blanket, good food and water. Joey's mouth was falling apart. He was in excruciating pain from many things, especially his mouth, ears and prostate issues. Joey was gone mentally, too. Nobody could touch him once he was in the kennel without using a soft muzzle and sedation. The years of abuse had taken its toll on him. There was no chance for him to have a home. Under the advice of our veterinarian, and much gut-wrenching consideration, we let him go Friday night, Jan. 13.
Read the story of Joey's rescue and his release from pain here.
Save
Save
Save
Save
Save